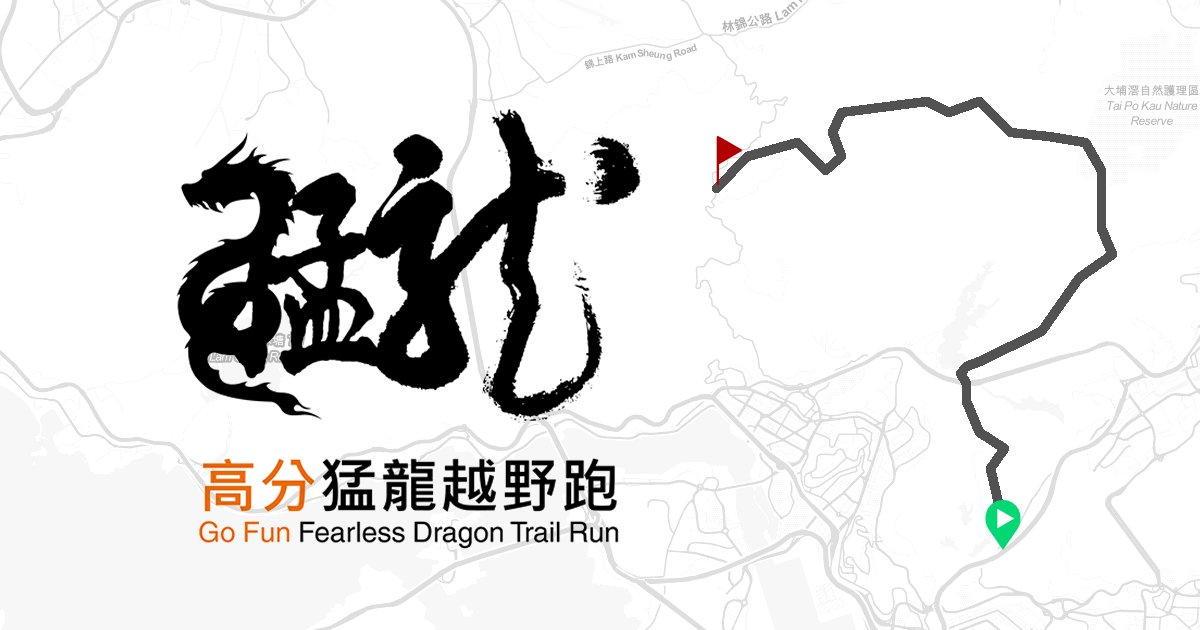 Go Fun Fearless Dragon Trail Run 2018

Brave the Height! Take Tough Climbs !
Fearless Dragon Trail Run, organized by Hong Kong Network for the Promotion of Inclusive Society (HKNPIS), challenges you with tough climbs on MacLehose Trail – Kam Shan, Needle Hill, Grassy Hill and Tai Po Shan!
This is the first trail run in Hong Kong that introduces the category of "Inclusive Team". We hope to promote active participation of people with a disability in sport activities and  community contribution.
Date: 22 September 2018 (Sat)

Route 1:
Distance: 20.5 km
Route: Tai Po Road => Shing Mun => Lead Mine Pass => Twisk
Start Time: 9:00am
Time Limit: 9 hours
Category:
Individual Solo Men (total of 6 age groups)

Individual Solo Women (total of 5 age groups)

Team of 4 (Men' s Team, Women' s Team, Mixed Team)

"Inclusive" Team of 4 (must include 2 disabled participants )

Secondary School Team (include 1 teacher + 3 students or 4 students from same school)
Route 2:
Distance: 4.6 km
Route: Tai Po Road => Shing Mun
Start Time: 8:45am
Time Limit: 2 hours 
Category:
Individual Solo Men ( age 15 of above )

Individual Solo Women ( age 15 of above )

Team of 4 (age 12 or above)

Secondary School Team (include 1 teacher + 3 students or 4 students from same school; students must be age 12 or above)
Registration fee: Individual: $350 + Minimum Donation $350 (per person) Team of 4: $1,400 + Minimum Donation $1,400 (per team)
Sep 2018
| | | | | | | |
| --- | --- | --- | --- | --- | --- | --- |
| S | M | T | W | T | F | S |
| | | | | | | 1 |
| 2 | 3 | 4 | 5 | 6 | 7 | 8 |
| 9 | 10 | 11 | 12 | 13 | 14 | 15 |
| 16 | 17 | 18 | 19 | 20 | 21 | 22 |
| 23 | 24 | 25 | 26 | 27 | 28 | 29 |
| 30 | | | | | | |
Import to your own calender
Solo (Route 1, 20.5KM)
age groups
18 years old or above
Minimum Donation $350
Team of 4 (Route 1, 20.5KM)
Men's Team, Women's Team, Mixed Team
Minimum Donation $1,400
"Inclusive" Team of 4 (Route 1, 20.5KM)
Team of 4 (must include 2 disabled participants)
Minimum Donation $1,400
Secondary School Team (Route 1, 20.5KM)
include 1 teacher + 3 students or 4 students from same school
Minimum Donation $1,400
Solo (Route 2, 4.6KM)
15 years old or above
Minimum Donation $350
Team of 4 (Route 2, 4.6KM)

15 years old or above
Minimum Donation $1,400
Secondary School Team (Route 2, 4.6KM)
include 1 teacher + 3 students or 4 students, 12 years old or above from same school
Minimum Donation $1,400
We Accept